Since I'm a little girl elephants fascinated me more than any rabbit or guinea pig like most of my friends. To be honest I was a bit afraid of these small biting and bustling animals. They were fast, hyperactive and you never knew when they going to bite you! By the time I moved out I got a tiny hamster (let's start small 😉 ) named Charlie and we became friends. But still though the grand mammmals are what fascinates me, escpacially elephants.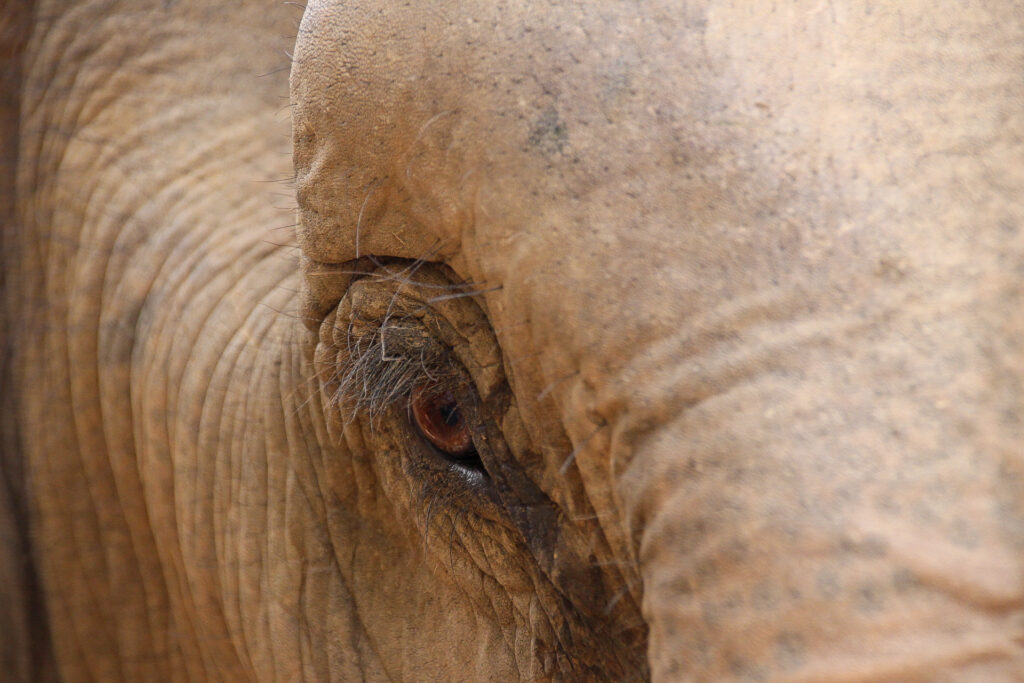 After visiting several times africa and asia I've seen quite a few elephants from far and close, I know that these animals are intelligent and often underestimated. Going back in the history elephants have always been used for wars, woodworks and constructions. The people trained asian elephants to get a strong but agile worker, which was helpful when building giant temples in the deep jungle. Later on our trip we visited the temples of Angkor in Cambodia, where we saw an elephant terrace symbolizing how important elephants have been in human history. For the temple Angkor Wat 8.000 elephants worked on the construction to realise such a massive project.
Today some countries like Laos forbid loggings camps where elephants have to work. Nevertheless, tourist attractions with elephant-riding is still allowed. Under terrible conditions these intelligent animals have to carry all day long lazy and sweaty tourist through the heat. In the land of one million elephants the population nowadays is by 1.500 while 500 of them live in captivity.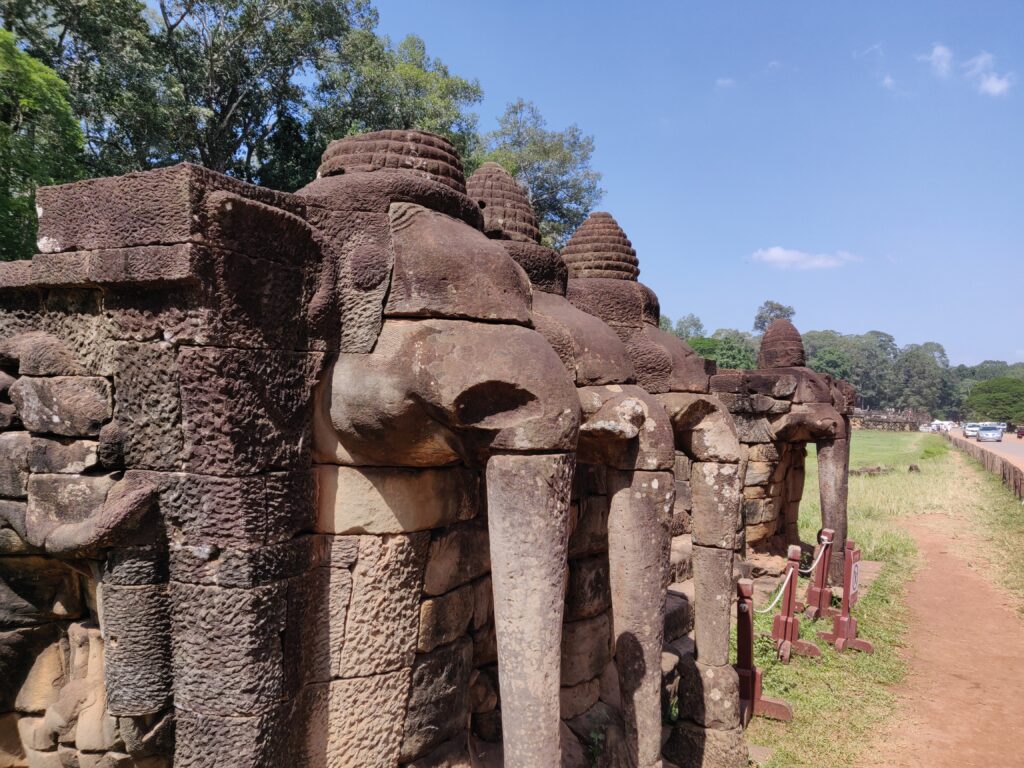 As a little girl I spent a few summer holidays in singapore visiting a friend of mine who lived there with her family. Back then we also went for an elephant ride and honestly for me it was awesome. Probably not for the animals! I have seen many times how people made a lot of money by using elephants for tourist attractions. And the worst of it: people still buy it! Now since I know more about conditions, treatment and buisness with elephants I would never do this again, unless the elephant himself asks me for a ride or a swim! 😉
Mandalao Elephant Conservation
So this time I found this awesome organisation called Mandalao near Luang Prabang where they rescue elephants by buying them from tourist attractions. This elephant sanctuary is a beautiful place along a small river next to farmer, fisher and tropical forest where some of the remaining wild elephants live.
This elephant sanctuary is financed by non-riding experience for tourists and worldwide donations. Comparing to the riding experience the prices for visiting are much higher but it was one of my best experience I will never forget. You can see where the money goes! For everyone who cares for animals and wants to have an amazing experience with these giants, learn about their life and even hug an elephant, this is the place to go.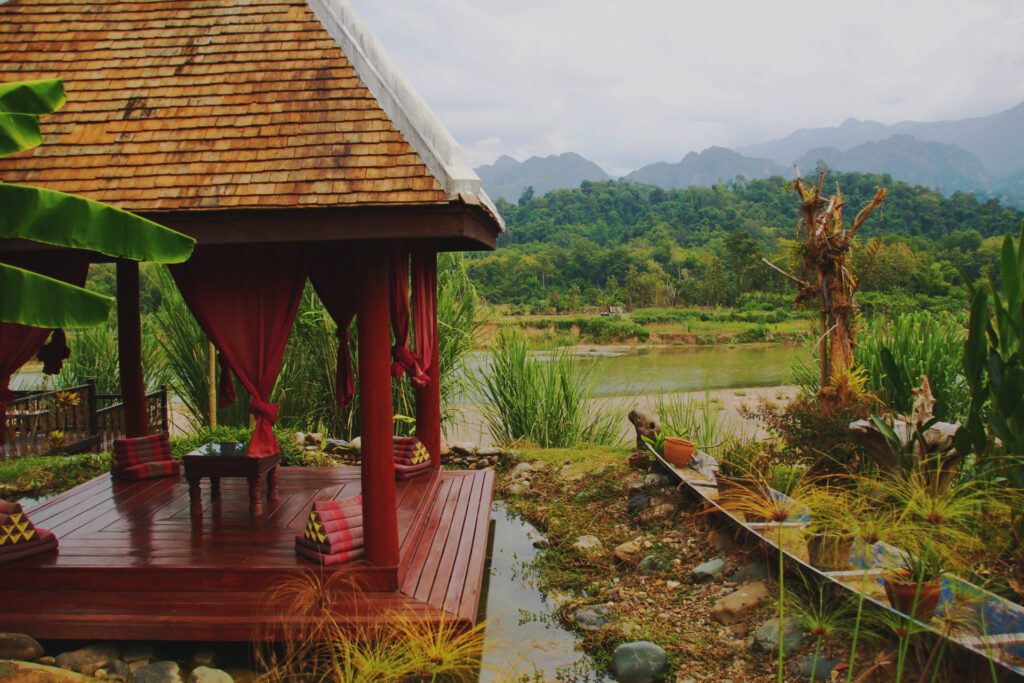 For Ben it was the first time meeting an elephant, while I was going nuts weeks before we went to Laos. I just couldn't wait! I booked the tour therapeutical trek directly on the homepage of Mandalao to make sure the money goes where it has to. We got picked up by Mandalao at the hotel and drove to their camp outside of Luang Prabang.
Before we went to the elephants home we stopped at the main house and got some information about Mandalao and instructions how to behave with the elephants. Equipped with super sexy boots, bottled water and a stop at the facilities we finally got started and jumped in a tiny boat to cross the river. From far I already could see some elephants and locals on loaded boats transporting leaves and bananas.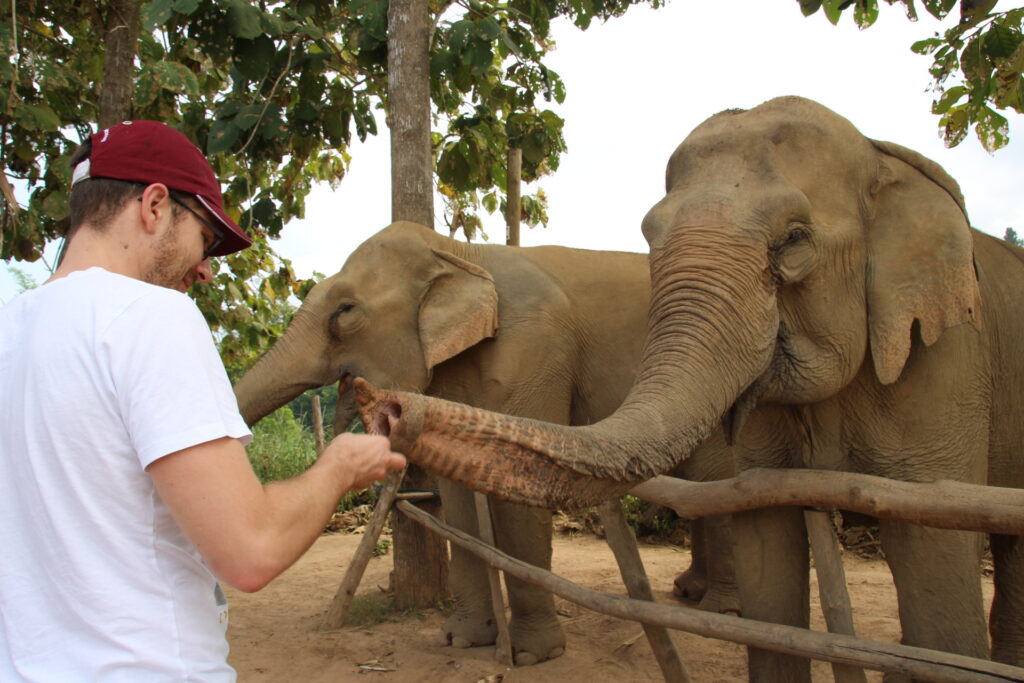 Ben, me and three other couples from GB, USA and Brasilia went for a walk with two old and picky ladies who are crazy with bananas. Escpecially the yellow ones! Guess what, I was again the little girl smiling from ear to ear. While I was hugging and feeding the ladies, Ben was overwhelmed by their presence, not sure what to do. At first he was standing there with the banana in his hands hestitating to get closer. As one of the ladies reached her trunk as far as possible trying to get the sweet banana he finally stepped forward. After several bananas you couldn't stop him anymore. Grining over the whole face unable to say a word I knew he was in love!
From there on we walked along fields and through forest stopping here and there for a hug, a photo or some more bananas! And guess what! It is so much more exciting watching the elephants play and eat right next to them from the ground perspective. You experience their natural behaviour. They watch you like you watch them.